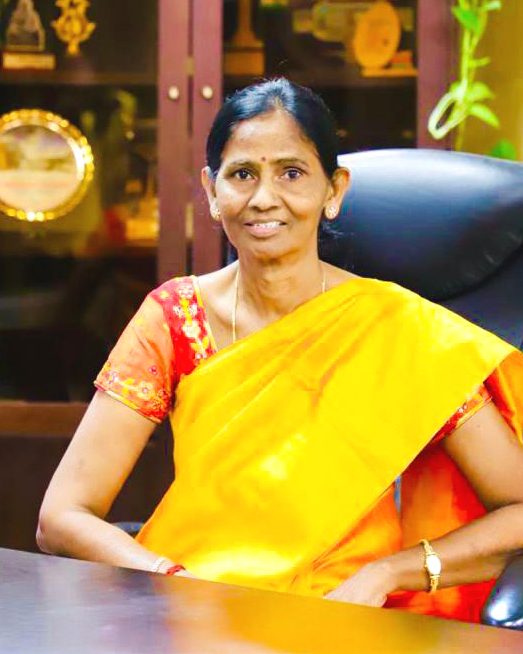 Name
:



Prof.D. Bharathi


(ప్రొఫెసర్.డి.భారతి)
Designation
:
Vice-Chancellor
Contact
:
+91-877-2248417
+91-877-2284567
Email
:
vc[at]spmvv[dot]ac[dot]in
Dr.Depuru Bharathi, Vice-Chancellor, SPMVV, Formerly Professor of Biosciences and Sericulture, Sri Padmavati Mahila Visvavidyalayam, Tirupati, A.P. Secured her Master's Degree in Zoology (1981) from Karnataka University, Dharwar; M.Phil (1982) & Ph.D (1984) from Sri Venkateswara University, Tirupati; Post-Doctoral Research from China (2001).
She was a Honorary foreign member of Sericulture Society of Zhejiang University, P.R.China,2000. Best Teacher Award from Andhra Pradesh State Government (2008); Best Research Award in Sciences from SPMVV, Tirupati (2017). Got second prize in mountain climbing held at International tour festival, Moganshan, China on 29th October, 2000; Lifetime Achievement Award in Zoology and Sericulture (2018) from Venus International Foundation, Chennai ; Young Scientist Grant Award, DST (1991); Distinguished Researcher and Scholar Icon in Sericulture from Jupiter Publications Consortium, Chennai & Ingenious Cyberonics Pvt. Limited, Chennai (2017); Outstanding Educator and Scholar from National Foundation For Entrepreneurship Development, Coimbatore (2017).
Nominated as Member of A.P. State Level Expert Appraisal Committee by MOEF & CC, Govt. of India in consultation with A.P. State Govt. (2021 - 2024); Executive Council Member; Finance Committee Member (2016-2019); Dean, Academic Affairs (2019–2021); Dean, School of Sciences (2011-2014); Dean Examinations, (2016-2018); HOD (2001-04;2016-18); Students' Union Advisor(2001-2002);Chief Superintendent of Examinations (2011-14); Convener, DST-CURIE Project (2010-2011); Convener, Central Purchase Committee, (2012- 2014); Non Official member in the Advisory Committee of SV Zoological Park, Tirupati, Forest Dept, Govt. of A.P (2013 -2016); Convener of Faculty Board for M.Sc. Zoology course(Distance mode), (2001 -2017); Vice President, Teachers Association (2009-2011); Member of Research committee for the evaluation of projects of Central Silk Board ,Bangalore (2000 –till date).
Countries Visited On Academic Assignment: China, Japan, Thailand, Nepal, Srilanka and Australia and acted as Keynote Speaker, Resource Person and also presented papers.