MECHANICAL ENGINEERING
The department of Mechanical Engineering(ME) started in the year 2012 with an in take of 60 students in B.Tech. The M.Tech specialization (MACHINE DESIGN) was started in the year 2016 with an intake of 24. In 2016, we had an MoU with Blekinge Institute of Technology (BTH), Sweden indicating 3 years of UG will be at SPMVV, Tirupati and one year at BTH, Sweden. Intake of ME students for BTH program is 10.
Vision
To be a premier centre of education for women in Engineering and Technology that empowers them to be globally competitive and socially responsible.
Mission
Empowerment and Emancipation of Women through acquisition of knowledge and skill up-gradation.
Create an ambience that promotes innovation, research and patenting in cutting edge technologies and enhance leadership qualities.
Collaborate with industry, academic and research institutes to bring a synergetic relationship between Industry and Institute.
Promote sense of commitment among students and faculty in applying engineering knowledge to solve the societal problems.
CO-ORDINATOR OF THE DEPARTMENT
Dr. P. Snehalatha, Associate Professor and Coordinator of the Department of Mechanical Engineering, School of Engineering and Technology, Sri Padmavati Mahila Visvavidyalayam. She obtained her B.Tech and M.Tech degree from Bapatla Engineering College, Bapatla and Ph.D from Acharya Nagarjuna University. She is having several years of Teaching, Research, academic and Administrative experience. She has publications in International and National journals and conferences and guided many PG and UG student projects. She has chaired a session in one week Faculty Development Program. She also organized and participated in number of National & International Seminars/Conferences and Workshops. She Received Bharat Vikas Award and visited Aachen University, Germany as ARC Faculty Member for establishing Applied Robotic Control Labs in collaboration with the APSSDC, European center for Mechatronics (ECM) and GC German Center for Engineering and Management Studies (GEMS). She is a member of International Association of Engineers (IAENG) - 204291, IAENG Society of Mechanical Engineering and the IAENG Society of Operations Research. Her research interests are Composite Materials, Nano materials, Tribology, Polymer Composites.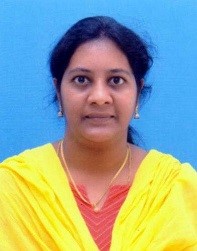 Dr. P. Snehalatha
Associate Professor and Coordinator of the Department of Mechanical Engineering